Spring is finally here, and with it comes the perfect opportunity to give your home a fresh start. After months of winter hibernation, it's time to open the windows, let the sunshine in, and get to work on some much-needed spring cleaning.
At MyTreasure Cleaners, we know just how important it is to have a clean and tidy home, especially during the spring season. That's why we're here to provide you with some tips and tricks to help you get your home in tip-top shape this spring.
Start with a plan
Before you dive headfirst into spring cleaning, it's important to take a step back and create a plan of attack. Make a list of all the areas in your home that need attention, and prioritize them based on importance. This will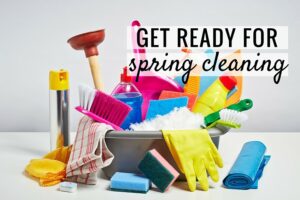 help you stay organized and focused as you tackle each task.
Declutter
Spring is the perfect time to declutter your home and get rid of any items you no longer need or use. Take a look around each room and decide what items you can donate, sell, or throw away. Not only will this help you create more space in your home, but it will also make cleaning much easier.
Deep clean
Spring cleaning is all about giving your home a deep clean from top to bottom. This means cleaning all those hard-to-reach areas that often get neglected during regular cleaning, such as ceiling fans, baseboards, and behind appliances. Don't forget to also give your carpets and upholstery a good cleaning to get rid of any dirt and dust that has accumulated over the winter.
Focus on the outdoors
Spring is the perfect time to spruce up your outdoor space as well. Take some time to clean your patio furniture, sweep your deck or porch, and plant some flowers or herbs in your garden. This will not only make your outdoor space look more inviting, but it will also give you a space to enjoy the warmer weather.
If you're feeling overwhelmed by the thought of tackling all of your spring cleaning tasks on your own, consider hiring a professional cleaning company. At MyTreasure Cleaners, we offer a variety of spring cleaning services that can help you get your home in pristine condition in no time.
Spring cleaning doesn't have to be a daunting task. With these tips and tricks, you can tackle your spring cleaning checklist with ease and enjoy a fresh, clean home all season long.